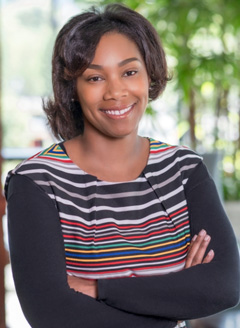 Erika Gilliam- Booker
NBPA President
The National Black Prosecutors Association
I am absolutely thrilled to serve as your President for the 2019-2020 year. From the time I attended my first National Black Prosecutor's Association Conference and Job Fair years ago, I was in awe of the number of successful, inviting NBPA members. We all shared similar experiences and were eager to help each other thrive. As a result, I immediately wanted to serve and joined the NBPA board. That was many years ago and I have served NBPA in almost every capacity: Great Lakes Regional Director, Secretary, Treasurer, Vice President of Membership, and Vice President of Planning.
Each year, the conference serves as a source of rejuvenation but also a reminder of the important work that we do. I hope to invoke that same feeling of awe, inspiration, and rejuvenation that I felt in you not only at the annual conference but throughout the year. NBPA members YOU are important and I want NBPA to serve as a reminder of how important you are.
This year, I want to start an annual theme that will serve as guidance as we travel together throughout each year. The 2019-2020 theme is Moving Forward While Reaching Back. Reaching back can mean a plethora of things including paying homage to our former great leaders by continuing the programs they've started, coming back to our communities and being visible in the communities we serve and grew up in. We hope to strengthen our partnerships including with the Conference of Western Attorneys Generals and Africa Alliance Partnership to send our members abroad to exchange ideas. Reaching back is the only way we can move forward. Just as someone reached back to help us, we owe a duty to do the same, which yields progress or moving forward.
The 2020 National Black Prosecutors Association Conference and Job Fair will be held in my hometown Chicago. Chicago is very special for NBPA. NBPA was started in Chicago. Not to mention, we are coming home a second time. The 37th annual conference will be held at the Hyatt Centric Magnificent Mile August 16-21, 2020 in Chicago, Illinois. Chicago is a beautiful city with a tall, expansive skyline. We have a lake and river that we, by the way, reversed the natural flow. From the Wilis Tower, which held the title of the tallest building for 25 years, you can see four states on a clear day: Illinois, Indiana, Wisconsin, and Michigan. We are rich in culture, history and will bring meaningful, cutting edge continuing legal education classes to you.
I am excited about the new things to come for NBPA. Join me in that journey and thank you, again, for allowing me to serve you.
Sincerely,
Erika Gilliam- Booker
2019-2020 NBPA President
Find us on: