After High-Profile Shootings, Blacks Seek Prosecutor Seats
By YAMICHE ALCINDOR
NOV. 5, 2016
Congratulations to the NBPA's newly elected President William Jorden!
How the DOJ is working with police departments to heal the nation
By Kenyen Brown, United States Attorney, Southern District of Alabama
Article written by Immediate Past President Melba Pearson on life as a prosecutor of color featured in Vice.com
Statement on Officer involved shootings the past few weeks
The winner of our 2016 Inaugural NBPA Scholarship is Adriele Douglas of Albany Law School
It is our pleasure to announce the winner of the National Black Prosecutors Association's Scholarship. Congratulations Adriele Douglas!
Sentencing and Corrections Reform Act
The NBPA has joined a multitude of law enforcement groups in endorsing the Sentencing and Corrections Reform Act. Please read our letter to the Senate Judiciary Committee here.
NBPA President Melba Pearson
Criminal (In)Justice with David A. Harris – Episode 3
Racial bias in the criminal justice system isn't just about old-school bigotry. The real problem is unconscious bias in the minds of most of us, including law enforcement. How does this affect officers' life-and-death decision making?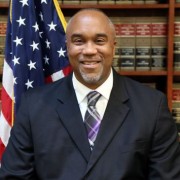 NBPA Member Robert Capers
Congratulations to NBPA Member Robert Capers, who was sworn in this January as United States Attorney for the Eastern District of New York. Mr. Capers succeeds our Attorney General Loretta Lynch in this post.
We are so proud of you, and wish you the best in your new position.
Melba Pearson Interview on NPR
Listen to President Melba V. Pearson's comments regarding criminal justice reform.
Find us on: